Welcome to Shoulders Down and Rising Phoenix T'ai Chi
We share traditional T'ai Chi and Qi Gong, as well as Movement Improvement T'ai Chi for Balance and Mobility, Health Coaching, and several other programs to encourage individuals and groups in the ways of health and energy.

Our specially designed classes and programs are for those who wish to create general health and wellness, build strength, relax, increase energy, boost immune systems, lighten loads, and create balance.  See the benefits you can achieve!
"With our programs, these results ARE typical." - Cate Morrill
This is a specially designed program for Seniors of all activity levels and for those with special circumstances, such as Parkinson's Disease, 
Arthritis, balance issues, and more.  We work with senior centers, retirement communities, and individual organizations. Online as well as in-person classes are offered. Check our current schedule here.
Cate Morrill is certified by  T'ai Chi Master Yun Xiang Tseng (Master Chen), who trained at Wu Dang Mountain in China, the birthplace of T'ai Chi. We offer classes in Yang T'ai Chi 24, Wu Dang Square Box, and many  sets of Qi Gong for the general population and for special situations. See our current public schedule here. Classes for cancer wellness are offered through Piedmont Cancer Wellness Center.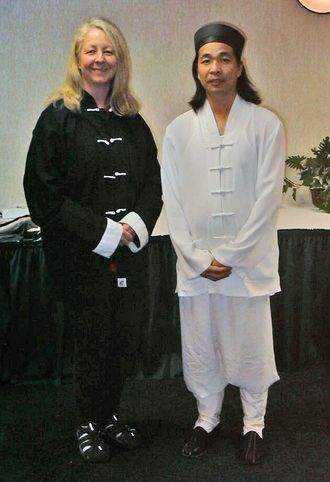 Specially created T'ai Chi and Qi Gong consultations, workshops and programs for individuals, groups, and for specific issues, such as physical rehabilitation, help dealing with certain illnesses or issues, side effects from treatments, recovery from injury, and more. In person, online and telephone consultations are offered. Also available are Qi Massage and External Qi Healing to help balance your body, release tension, and boost energy. Contact Cate Morrill to arrange your meeting.